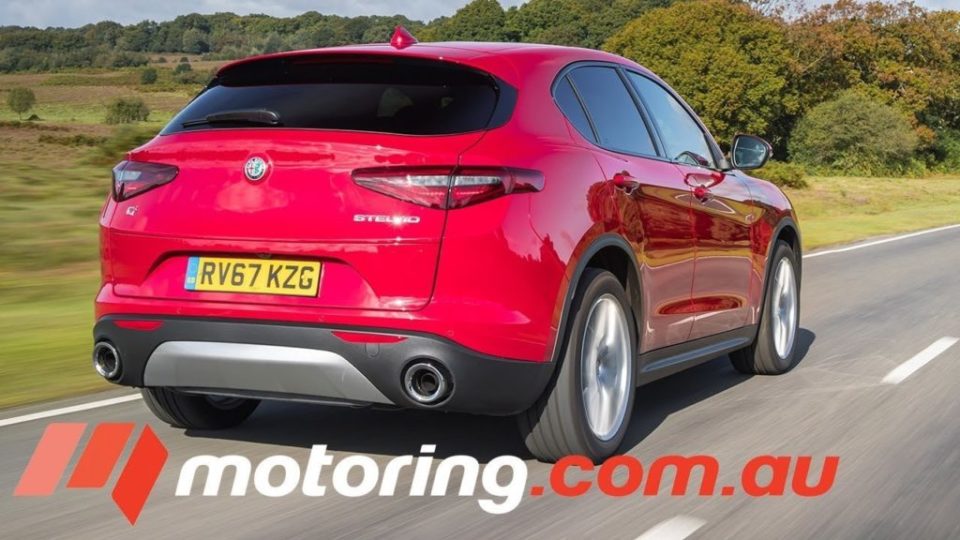 The Stelvio is the Alfa Romeo enthusiasts hoped and prayed would never happen. That's because in the famous Italian car makers near hundred and twenty year history, SUVs have never really featured.
Join the team from Motoring Australia as they deliver their Alfa Romeo Stelvio 2017 Review:
So Alfa Romeo's first modern SUV better be good for it to be accepted. The Stelvio, straight off the bat is a classy, well-executed alternative to an Audi Q5.
Weight has always been the enemy of high riding SUVs like this and Alfa Romeo has put some real real engineering treats for us in this Stelvio.
Things like this bonnet here is aluminium and some of the rear bodywork is aluminium all the braking, the calipers are aluminium and the engines of course is aluminium. Alfa Romeo says this car weighs around 100 kilos lighter than the equivalent Jaguar F-Pace.
It's no surprise that inside the stereos cabin well there's plenty of Giulia influences and that's no bad thing it's a really sporty looking SUV from the inside it's got these huge paddles for the gear change which look like they're lifted off a Ferrari and everything is clean well designed it doesn't feel too bad it's not perfect though they still haven't fixed this rough edge around the gear lever and just the attention to detail doesn't quite measure up to the best in the class.
Since the Stelvio is based on a Giulia platform in most circumstances the car is running in rear-wheel drive only. It's only if slip is detected that the Alfa Romeo Q4 All-Wheel Drive can shuffle 50 percent of torque to the front axle.
The other reason we are glad to be driving this right-hand drive stell vo is we had some concerns about ride comfort on the original launch and unfortunately in this diesel's case I'm driving now we were right to be worried. If you order the large 20-inch rims on this car prepare to forget about ride quality.
We have been bounced almost into their hedgerows on a bumpy road. It doesn't help when you have such unforgiving suspension, stiff springs, firm dampers and big wheels but the steering is quick as well because it can really throw you off line.
So the advice is, if you value a wide, go for the smaller rims but wait until adaptive dampers come on sale later on in 2018.
The other interesting comparison about driving this right-hand drive car is the big difference between the 2.1 diesel and the far smoother 206 kilowatt turbo petrol.
On the road the petrol is the lighter the more nimble the more agile car and it's also has the better ride even on the same 20-inch wheels.
With huge steering mounted paddles like these you really feel obliged to use them but in the diesel you just let the 8-Speed Auto just get on with it.
In the corners the steering is quick but it doesn't actually offer that much feel so sometimes when the understeer does come it really is a bit of a surprise.
The other slight disappointment is it still really feels like a big, heavy, Giulia.
Other complaints we have about the car is the infotainment system. It's also not touchscreen ,which is a bit ridiculous nowadays because it's literally just there but you have to go downto the console and use a fake hard drive controller
So the million-dollar question…Would you really buy a Stelvio over some of its talented German competition?
Alfa hasn't released pricing for this car yet but it's likely to cost thousands less compared to something like a Porsche Macan.
For that money you still get something that's equally as fun to drive will be full of plenty of kit and well a real charismatic little SUV that you just can't help but like I think it's worth to look.
Alfa Romeo Stelvio 2017 Video Review