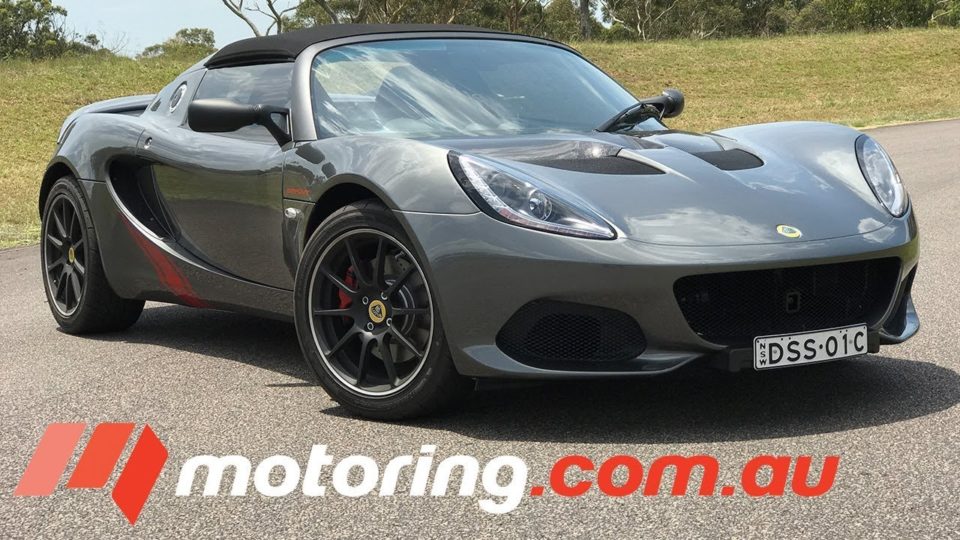 The Lotus Elise 220 Sprint 2018 Review takes a look at Lotus' stripped back road car with the team from Motoring Australia.
Sports cars aren't what they once were. If you're in the market for a supercar nowadays for example, you're often getting into something safe, comfortable, even suitable enough for the daily grind. But what if you want your sports car to look, feel and drive like a sports car all the time? To that, I give you the Lotus Elise 220 Sprint.
The supercar field might be moving in a more gentrified, user-friendly direction, but British car maker Lotus clearly isn't conforming. The new Sprint version of the Elise typifies Lotus' long-standing mantra of simple, light weighting.
Thanks to extensive use of carbon fiber weight has been cut by 41 kilograms to 798 kilos dry. Combine that with a 1.8 liter supercharged four-cylinder petrol bringing 162 Kilowatts and 250 Newton metres and you can begin to understand the Lotus rationale.
Now, it's one thing that the Sprint can notch triple figures in four and a half seconds or that it has a speed ceiling of 234 kms/hr an hour. But really, look at the size of it, it's tiny and not surprisingly, getting inside is a real adventure.
From the cockpit, it hardly brittles with new tech or safety. Once you've straddled the carbon-fiber door, you know you're in something serious. An open gate manual gearbox, figure-hugging seats and a really low slung driving position…in one word its raw! Raw steering, raw ride and a raw and raucous engine note.
Now it probably sounds appealing but if you're in the seat for long journeys or in heavy traffic, it can grow a little bit tiresome. Those traits have been accentuated on the 2018 model Elise thanks to a new exhaust system and due to a lack of reversing camera and modern safety equipment the 220 Sprint is basically bare-bones raw, all the time. Not that Lotus really cares, they know their cars are stripped back in purpose-built, the trick is finding the right road.
On a closed circuit the Elise really comes to life. The steering is full of feel and feedback, to the point where you can feel every little nuance on the road and because of that light curb weight, it shifts its mass superbly. A realy chuckable and entertaining little driver.
As for the engine, look 162 kilowatts doesn't sound like much but in a package this compact, it makes for a lot of fun. Enough power to put a smile on your face but not too much to get you into serious trouble.
I've got to say, it is refreshing to have such a nice mechanical gear shift. The ability to heal and toe in the corners really adds that extra element of satisfaction. I'm enjoying this a lot.
Surprisingly the Elise is more playful than what I would have anticipated, there's a little bit of lift off oversteer if you really brake late and throw it into a corner and while we haven't turned stability control off, but I do get the feeling that it would be quite tail happy with all the systems switched off.
The noise is surprisingly endearing for a little four cylinder two – a little bit of crackle on the overrun and when you're really up it to the red, towards its 7000 rpm cut out, you get a beautiful whoosh from the supercharger as applies its power down.
Ultimately the Elise Sprint 220 is extremely one-dimensional and if we're honest, probably not relevant to 90% of sports car buyers. But in the face of increased autonomy and this ever-growing emphasis on comfort there is something to like about the stripped back ethos.
At $98,000 it's not cheap, but then, name me another car that will do the same things for the same money
Lotus Elise 220 Sprint 2018 Video Review