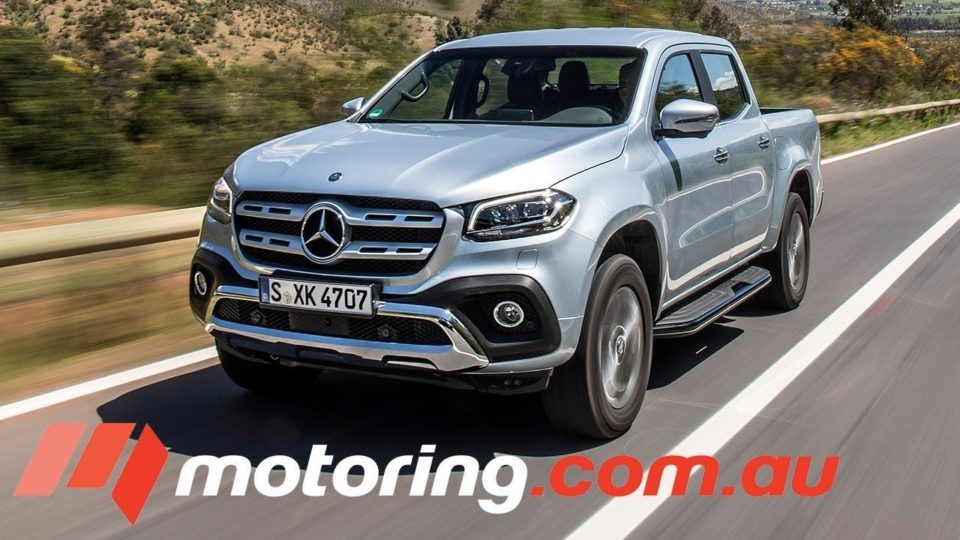 Mercedes-Benz has really pushed our perception of what a luxury vehicle is over the last few years and now they're at it again with this vehicle, the X Class, their first luxury pickup, which will be on sale in Australia next April 2018.
Join the team from Motoring Australia as they deliver their Mercedes-Benz X-Class 2018 Review:
As has been widely reported the 2018 Mercedes-Benz X Class is developed from the same base as the Nissan Navarra although the Benz is wider, has had its suspension re-tuned and has its own exterior and interior designs.
Expect to pay plenty more for the X Class than the Navara a price premium for a premium vehicle is Mercedes argument.
Step inside the X Class and superficially it does look lluxurious but the surfaces are hard and some of the plastics quality is reasonably average.
It's high quality for a truck but it's not lhigh quality for Mercedes-Benz.
Despite their work, the linkage to the Nissan is undeniable. The four-cylinder models we get first up are powered by the same Renault engine and part time 4×4 drivetrain as in the Navara and built in the same Nissan plant in Spain.
There will be more differentiation when the V6 X Class arrives about mid-year in 2018, with a powerful Benz engine and permanent 4×4 system but while we've got a ride-along in the impressive V6 our driving impressions were limited to the four-cylinder X 250 D at the global launch in Chile.
Step out of most other pickups and you are going to be impressed by the X Class' level of refinement.
The engine is quiet, thanks to a lot of sound deadening and it does ride really well.
But it is heavy, in part because of that sound deadening, so it isn't especially responsive when you put the foot down on the open road.
Speaking of open road, our highway driving of the X-Class was long but not especially informative. Chilean speed limits are low and the roads are mostly smooth.
With its wide track the X Class handles quite well but the steering could offer more weight and feedback.
We also had the chance to drive the ex class on a specially prepared off-road course it was a short but interesting Drive off-road in the X Class and not really indicative of the outback corrugated high-speed roads that we get at home but one thing's for sure these obstacles in front of us today in Chile it dealt with them really well.
Well driving the new Mercedes-Benz X Class 2018 in beautiful Chili for a couple of days does not give us definitive feedback on how it's going to perform when it gets to Australia's very different conditions next year but there are a couple of definitive conclusions we can draw firstly that this vehicle is not the benchmark in the dual cab pickup market but it is among the leading contenders we also know for sure that Benz is going to charge a premium for this vehicle and we also suspect that despite that they're going to be snapped up like hotcakes.
Mercedes-Benz X Class 2018 Video Review